Raised Garden Beds
Raised garden beds give you more scope in your garden and they can be adapted to your needs.
When my friend and I were working on his garden, I noticed he was having trouble getting down to the ground so we incorporated a raised section to grow some vegetables and flowers.
I have used raised bed when the ground soil has lots of roots that make digging very difficult. Another plus is adding different type of soil to the garden to grow plants that prefer that type such as Ericaceous soil.
Making Raised Garden Beds 
These can be made in a variety of ways using many different items such as containers like tyres and plant pots. I had an old plastic dustbin that I cut into 3 sections, painted it white and placed them in the garden.
They can also be made with edging out of old roof tiles, bricks, slabs, scaffolding boards, wood, fallen tree branches and the list goes on. Virtually anything that will keep the soil in place. If wood or tree branches are used these will need to be replaced as the decomposing issue happens.
When I made the one shown below it used wood. I have no experience in woodwork or making wonderful wooden things but I do have a can do attitude and the end look is fine for me and serves the purpose.
We were having such a lot of building work being done on the house, sorting the garden out became my job.
Finding a patio under the earth after having some old trees removed. Decided to keep it where it was a that seemed a good start for my raised bed. The ground had lot of roots and was undernourished.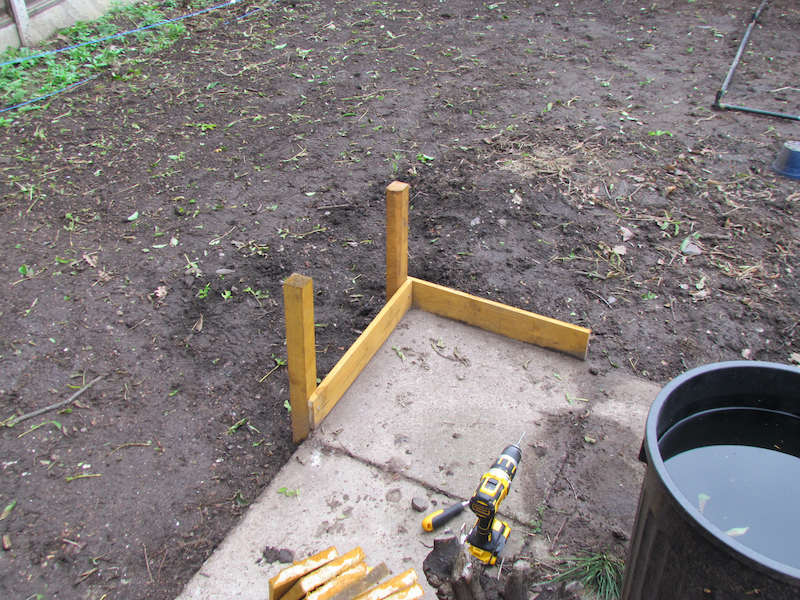 Using uprights 10 x 4.5 cm and planks 2 x 10 cm, a "L" shaped bed was started. Uprights can be cemented in but I didn't as they were firm when knocked into the ground.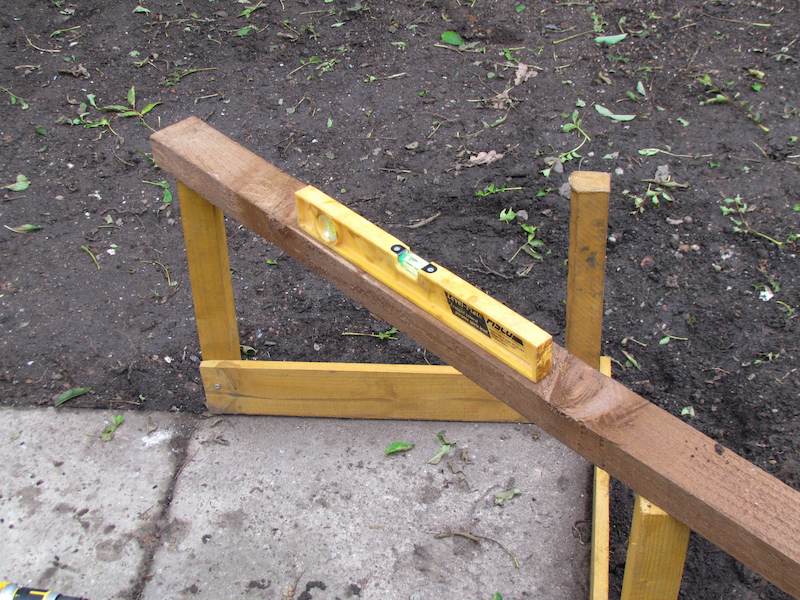 Although a rustic look for me it needs to be level.
Placing all the uprights where they were to go and making them level. Cut the planks to size and screwed them onto the uprights.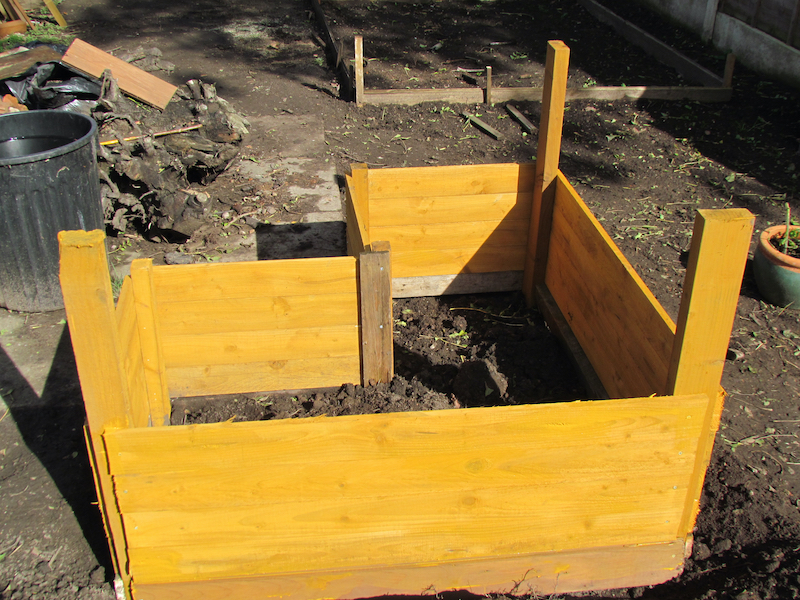 After it was completed the wood was treated with preserving paint.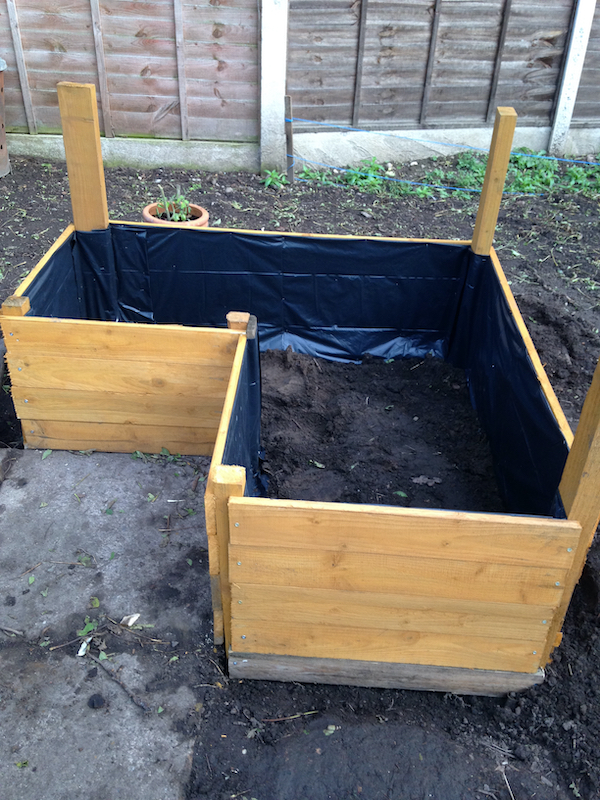 The beds were lined with plastic in order to slow down the decomposing and to protect the soil. The soil was then added.
Other types of raised garden beds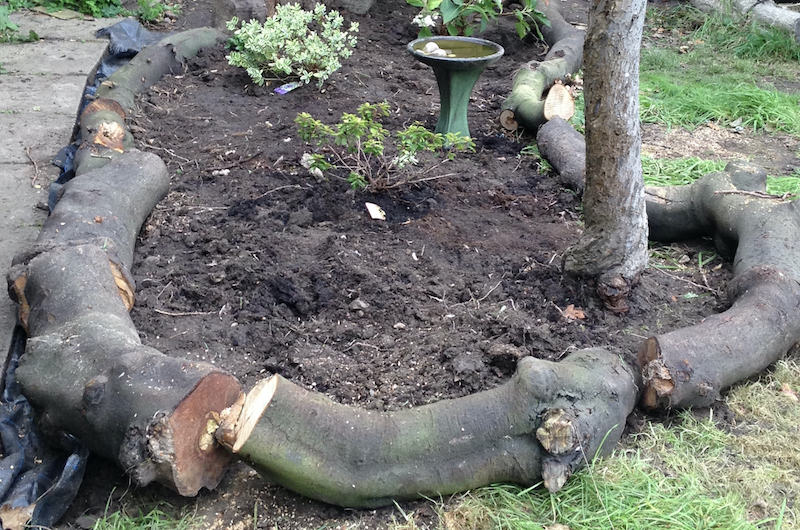 Flower bed bordered with large tree branches. These will eventually rot away but are providing a home for nature at the moment. This could be filled higher for growing vegetables.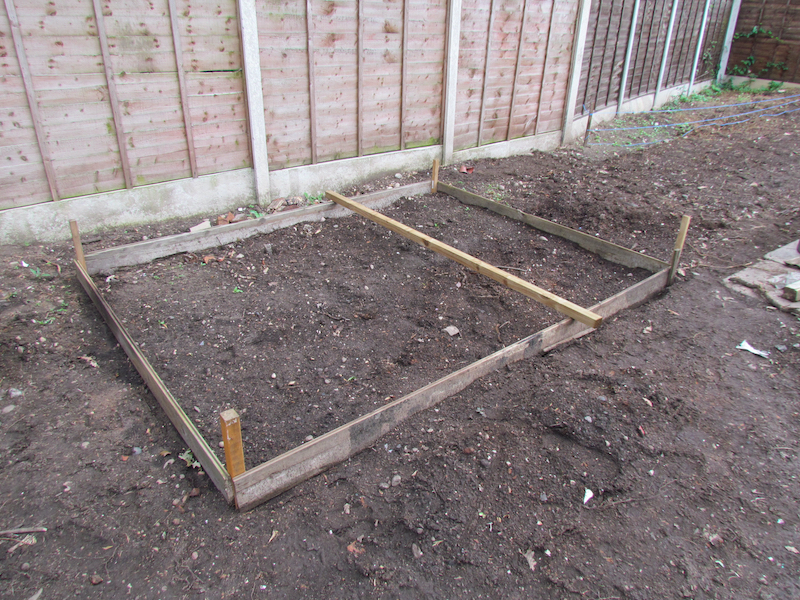 A shallower raised bed can be made with long planks or scaffolding boards.
These raised beds can be made in lots of different shapes. I have kept mine rectangular but since making these I may decide to remodel the design in order to reach the corners easier without standing on the plants inside. 
Enjoy using and / or making your raised garden beds.