Discovering Craigievar Castle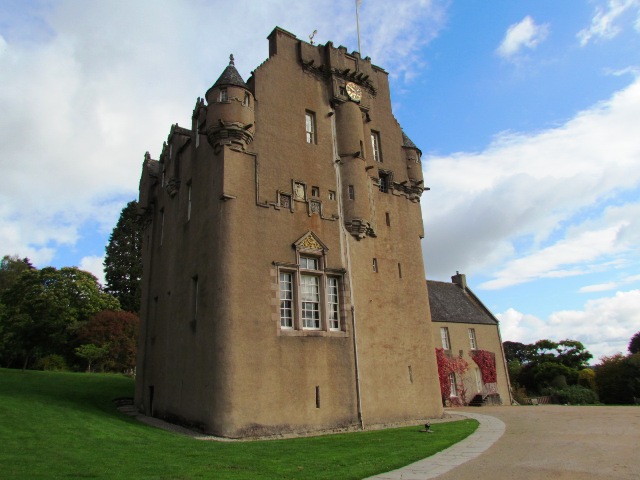 We visited Craigievar Castle when visiting Scotland and Aberdeenshire in particular as there are a few castles found there.
The outside has a pinkish tinge and looks like it has been taken out of a fairytale and is an example of a Tower House Castle.
This castle is found north of Aboyne, Aberdeenshire on the A980. It is not far from Crathes Castle. It was build by the Mortimer family and in 1610 was bought by William Forbes who rebuilt the top and added turrets, dormer windows and viewing platforms.
When you arrive at the car park, which is a short walk from the castle, the views around are really lovely. Looking around the castle is done on guided tours only. The guides are very friendly and informative giving you a really great visit.
When Queen Victoria came to Royal Deeside and bought Balmoral Castle about twenty miles away, she visited this castle and also brought her guests.
This Royal visit put this castle on the tourist map.
In and around Craigievar Castle
The tour begins in the entrance lobby and by heading up the stairs to the hall with carved ceilings. These carved ceilings are found throughout the castle in some form.
The atmosphere throughout is as though the family has just stepped out and left a warm and homely feel. The tour covers all the rooms as  the family no longer live at Craigievar as there is no mod cons like .......electricity!!
The tours seems to lead you up one side of a spiral staircase and down another with the spirals going in different directions.
From the hall the stairs are climbed to the Ladies withdrawing room and Prophets Chamber on the first floor, on the second is the tartan bedroom.
The third floor is the  location of the Queens room and Lady Sempill's room while the nursery, the blue room and the tank room can be visited on the fourth floor.
Most of the bedroom have a dressing room where the maid would have slept. At the very top on the fifth floor the maid's room is found off the long room.
Gardens
Leading on a driveway up to the castle and another leading from the castle are tree lines avenues. Around the castle are woodlands, enclosed gardens and orchards.
The National Trust for Scotland is responsible to the maintenance and upkeep. There are holiday cottages available to stay and enjoy the delights of this area.
Worth a visit if you are around this area....enjoy