Making a Vegetable Garden
Growing plants in a vegetable garden has been a popular pastime for many years. Most houses had a plot somewhere within the garden no matter how large or small it was.
During the war years vegetable gardening was a necessity as it helped to bulk out the rationing.
Nowadays with newly built houses having much smaller gardens and with the popularity of apartments and flats, space can be the determine factor as whether things are grown.
Herbs can be grown on a window sill and having an allotment is still as popular as ever. Some councils have quite long waiting lists for one to become available.
A compost container, heap or a wormery is a must if vegetables are to be grown. There is a lot of leaves and stalks not to mention peel that will be left over and these can be used when rotted down to add goodness back into the soil.
I have fun with my vegetables as when I plant the seedlings, I never know what I will get. I have had butternut squash the size of a coffee mug and  carrots that are really small or have eight legs. All still get used as soups are a great way of using them.
Vegetables to Grow in a Vegetable Garden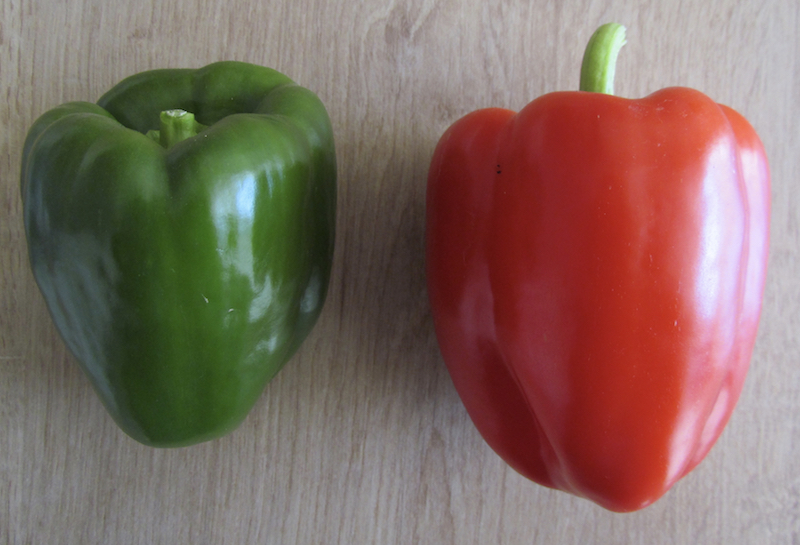 Red and Green Peppers
Chilli Peppers

Planning a Vegetable Garden


Preparation is really the key to growing vegetables.
In 2018 I was really keen to get an area planted, for months the only things on the ground were logs and sticks so moisture was limited and the ground quite compact. I began growing the seeds in a conservatory so they were ready to plant when the logs and sticks had been removed.
Needless to say any vegetables I put in did grow but they were very slow to start and flower which meant that I didn't  get many vegetables. The weather was extremely hot, the ground was dry and light so any watering I did went straight through.
Most types of soils will benefit from a good digging before planting is even thought of.
Sandy Soils - should have organic material (compost, well rotted manure or something to add nutrients and help to keep moisture in the ground) dug in a couple of months before growing as these soils are quite light so rain could was any goodness out of the soil if done earlier.
Clay Soils - these benefit from being uncovered in the colder weather. This soil can be very heavy and digging or turning over these soils in the late Autumn to get the best or worst of the winter weather.  Any large clods of earth that is exposed will be broken down into manageable clumps by the frost and cold by planting time.
There are a lot of soil types in-between these extremes but most will benefit from digging and incorporating organic material a few months before planting.
Crop Rotation
Not only can compost or organic materials be added to feed the ground but the plants that are ground in a spot can also help feed the next years vegetables if there is a rotation of the crops. It also stops the build up of pest and diseases for one particular type.
A vegetable plot can be divided into 3, 4 or 5 parts and each year a different crop is grown in each segment:
Potatoes
Peas and Beans 
Cabbage, Leeks and Onions
Carrots and other root vegetables 
Then each year following move the crop forward to the next section so the second year would be:
Carrots and the root vegetables 
Potatoes
Peas and Beans 
Cabbage, Leeks and Onions 
Feed the ground well with well rotted compost before planting the cabbage group which will be lighter for the other groups when they get to that area. 
If the vegetables I have shown are not to your taste then there are others from the same group. An area could be left with nothing in it for one year to rest the soil. I have different beds around the garden that I change what I grow in them.
My Vegetable Garden Experience
I have lived in my house for just over 5 years and have done major refurbishments to the garden and the inside. My garden is on the medium to large side and was abandoned for years with rubbish buried in the ground and weeds having a field day growing everywhere.
I have reclaimed the bottom third from overpowering laurel trees and gained an extra 18 m x 5 m which is about 60 x 17 feet. It looked like another small garden, which I must say was a little overwhelming.
I love growing raspberries, butternut squash, pumpkins, chilli and large peppers, potatoes, tomatoes, laterally lettuce and spinach.
After finishing the house renovation 2022 was going to be the year to get a grip on the garden and what am I going to do.........move!!
Family life takes over and my next garden will be a challenge because it is on the small to medium size. I am hoping there will be space for vegetables.
Have fun with your vegetable garden.