Crathes Castle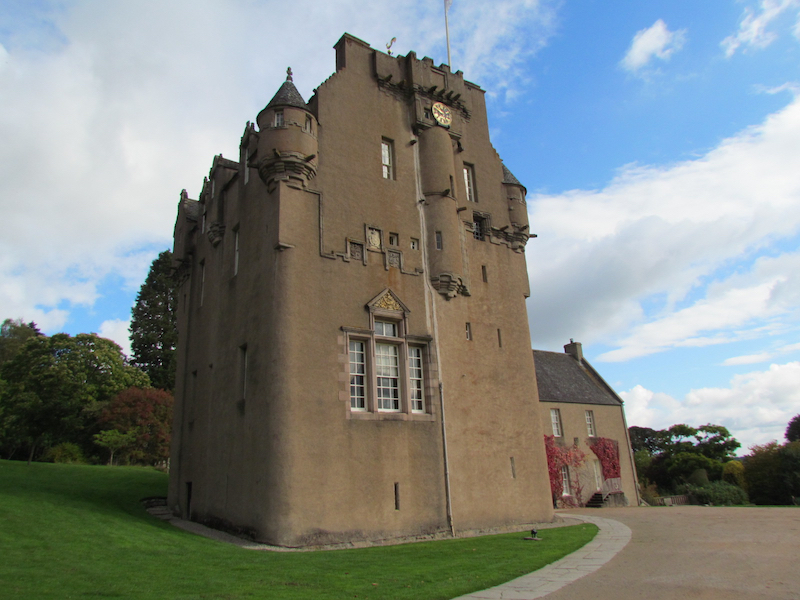 Crathes Castle and gardens can be found off the A93 on the outskirts of Banchory, Aberdeenshire. It is owned and looked after by the National Trust for Scotland.
This castle is on the the best from the Sixteenth Century lying on the hillside above the River Dee. For over 350 years this castle has been used by one family called Burnett.
The side extension with the red climber growing up the walls is the Queen Anne wing and was rebuilt by the National Trust for Scotland in 1970.
Touring around the castle is done on a self tour, starting at the ground floor rooms before heading up to the high hall, stair chamber and then onto the Laird's bedroom stopping to see the rooms in-between.
There are placards to read about the different items in each room. There is also a guide in most of the rooms to answer any questions or recall important facts.
There are lovely decorated ceilings, tales of a ghost, circular staircases and beautiful furnishings.
While we were visiting the staff were getting ready to host a wedding.
The Gardens of Crathes Castle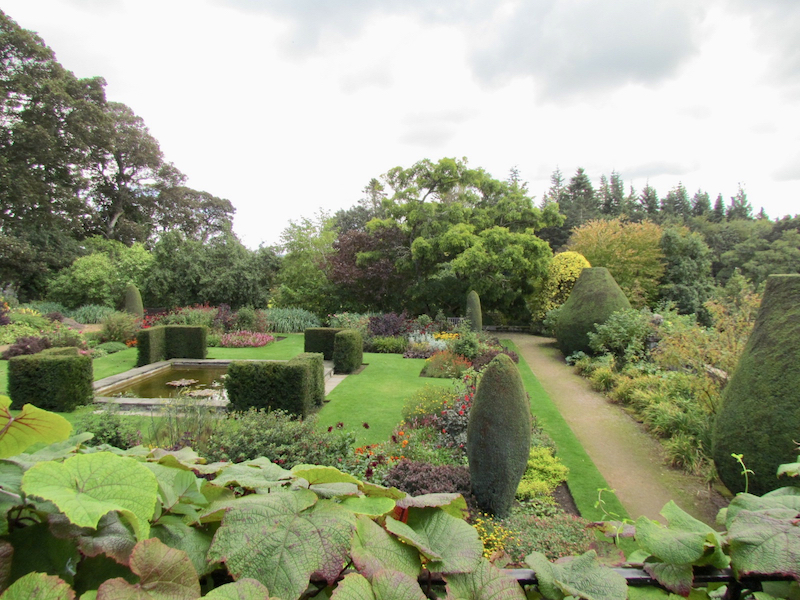 The picture above is the upper pool garden, all the gardens of the castle are just lovely.
They show manicured hedges and topiary that would inspire you to try doing this at home, space permitting. I am not too sure I would get the same result.
It is set out in lots of different area that cover 3.75 acres by a head gardener, groundsman and four other gardeners. You can't help admire their talents.
On a higher level you can find the upper pool gardens, fountain gardens, Croquet Lawn and Rose gardens.
While on the same level as the one you enter into are the Camel gardens, Trough Gardens, Golden garden and Nursery area. All of these have a variety of different borders.
Around the Castle 
The estate of the castle beyond the garden walls is left as nature intended with a little bit of attention at times.
The wildlife of animals and birds are left to roam naturally, there are walks taking in many different tracks with each taking a different length of time. During the summer there is a Ranger that leads guided walks.
Near to the castle are a cafeteria, shop and paths that will lead to an adventure playground. There is also a large car park.
We visited here while we were camping in the Banchory site down the road and as there are a lot of castles in this area decided to visit some so also joined the National Trust for Scotland. They have an arrangement with the National Trust so you are able to use your card and visit places elsewhere.
If you are in Aberdeenshire make sure to visit..... enjoy.