Scone Palace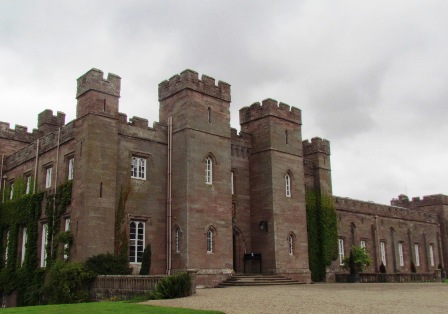 What a delightful name, Scone Palace delicious as it sounds is not made out of these tea-time treats.
The first impressions are breathtaking. This palace is set in approximately 30,000 area in Perthshire, Scotland. It is build out of red sandstone and is in a Georgian Gothic style. Its roof outline makes it look like a castle.
It was build by William Atkinson for the Earl of Mansfield and was completed around 1812. This Palace was open for the public to visit in 1966.
The walk from the car park is up a long gentle slope and before you get to the front door the eye is taken along paths leading off in all directions.
Around Scone Palace


We visited here while on a four day tour that included a visit to the Edinburgh Tattoo. There is a tour you can take to show you the different rooms in part of the house that is really interesting and at one point you found yourself surrounded by mirrors and giving the impression that the hall went on forever.
There is an Abbey at Scone, which in the Middle Ages was very important and many Scottish Kings were crowned here using the Stone of Scone. Due to its importance historically this stone is now found in Edinburgh Castle.
Opposite the main palace doors there is a hill called Moot Hill and on this is a little chapel. Halfway between the palace and the chapel is a replica of the Stone of Scone.
There were cane sculptures of deer grazing near to the palace entrance and further afield the grounds were great for walking through looking at the trees and flowers.
There was a playground, lots of space to run around and explore and also a maze but due to our time restraints we didn't have enough time to go into what looked like a nice one.
Maybe on the next visit we will have time to find ourselves going through the maze.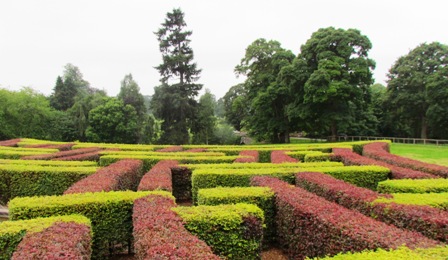 Today this lovely house is part of a family business holding corporate events, weddings, musical events and lectures.
The grounds as part of a managed estate have a variety of game birds, red squirrels and because the river Tay runs through the middle they also have salmon.
At the walk up to the palace we saw lovely highland cattle grazing which is also an added attraction for visitors.
If you get to visit Scone Palace enjoy your day.